Summer Fashion Trends: PVC
As the summer months have arrived, it's time for trends to shift and new styles toshine. One of our favorites is PVC patches! These rubber patches were made to stand out. The three dimensional appearance sets a flawless backdrop to the clean, sophisticated and animatedly colorful artwork on top– while staying a highly durable patch.
These patches are becoming increasingly popular in european markets for streetwear fashion designers, and we can see why. Not only do these patches look extremely clean cut, but they can stay that way too. PVC patches are highly durable in any harsh conditions- water, mud, pressure, you name it. They are naturally composed to withstand intense wear, while remaining as flexible and lightweight as they were on their first day. That's why PVC patches are the ultimate choice for outdoor wear, denim jackets, t-shirts, slides, hats and more. Perfect for the heat and summer sun.
They are making big waves in the high end fashion world and streetwear too! PVC material itself is being styled by many models and influencers and being used for handbags by Fendi and shoes by Zara. The classic Champion logo is often styled on a PVC patch on their slides, hoodies and t-shirts.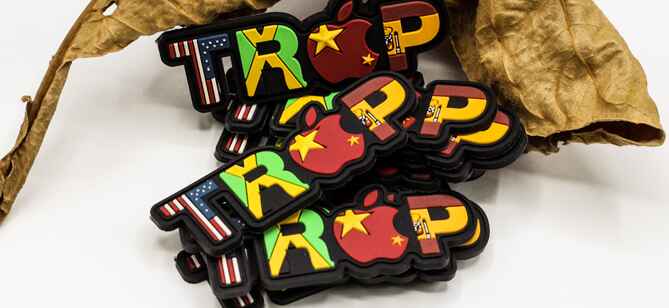 We also have two separate types of PVC patches, to make sure you get as many choices in building your perfect patch. The first is a 2 dimensional (flat) patch, These patches are the simpler option for wanting a classic patch but with PVC material. Though they still have the three dimensional effect with raised lettering/artwork, they allow the design to be highlighted with their precise details on a backdrop of any color you can imagine. They are a model choice for letting your artwork be accurately and vibrantly showcased on a patch.
The second is a 3 dimensional (curved) patch, where your artwork or logo can really come to life. Unlike 2D PVC, these patches are curved and can have many layers, which is perfect for creating the ultimate three dimensional effect that literally stands out. The design is smooth, rounded and prominent.
On top of that, one of our most popular PVC patches is our Glow in the Dark option. These look fantastic in their bright colours during the day but have a really cool and hidden feature of glowing in the dark. This can amplify your design or logo and make them distinguishable. It's like getting two patches in one!
As with all of our patches, our services are meant to be easy, quick and convenient for you. For this reason, we offer free vector mockups, a multitude of color options and even free samples. After you send over your design, we can produce a sample for approval before beginning to process the full order- that way we can make sure it's of the highest quality and up to your satisfaction. We also offer free shipping services and a money back guarantee to ensure you are content with each and every patches quality.