Versatile velcro name patches are commonly worn by students, workers and military and police officers. The customized name itself is created through embroidery – elegant needlecraft that uses thread on fabric.
Through the years, embroidered name patches have gained more popularity, and the common has given way to more creative applications. Personalized designs have emerged, making the patches appealing to a more diverse crowd.
There is no shortage of ideas and inspiration for those who want to make their own custom name patches. Here are a few ideas to try if you're looking for options:
Custom Patches for Twinning
The term "twinning" was even coined to identify the trend of wearing the same outfit. But before this was a thing, twin dressing had already been common among siblings, especially if they're actual twins.
However, confusion may ensue once young identical twins (or triplets, quadruplets and so forth) wear matching clothes. We understand that some parents may be unable to tell their babies apart in this kind of situation.
One fun, creative solution to this dilemma is to have custom patches created for your twins. For instance, you can order embroidered name patches tailored to your little ones' personalities. Further, you can choose velcro backing for the patches to attach/detach, clean, and reuse them more easily.
Brand Name Patches
Uniform name patches have been around for a long time, serving their purpose without drawing unwanted attention. They are used to identify employees and usually their roles. Yet, they can also make client-facing workers feel acknowledged. Isn't it heartwarming to hear a customer call a store clerk or a restaurant manager by their name while appreciating their service?
Aside from being a tool for inspiring human connection, custom embroidered name patches have become an effective branding and marketing asset nowadays. Whether it's your company name or logo on the patch, displaying it publicly helps boost business visibility.
Note that this type of patch is not limited to your employees' everyday uniforms. You can use brand name patches on shirts, caps and other merchandise items during company events and team-building activities. And when workers choose to wear them outside work, it provides them with the opportunity to promote the company.
Custom Name Patches for Honoring a Person
Military officials wear insignia to identify their rank. This is usually a patch with a symbol or pattern that signifies leadership. If you wish to honor someone who served the country personally, you cannot just produce the same thing as the official patch. However, you can have a custom patch made in their name. It may be a small gesture, but it's a thoughtful way of thanking them for their service.
On the other hand, you may also create velcro name patches to honor the memory of a loved one or friend who has passed away. The embroidered patch will serve as a memento of the deceased individual – something to remember them by that will last a long time.
Personalize your memorial patches with the name, nickname or symbol of the person you want to remember. In some cases, family members, relatives or friends may provide a piece of clothing to be used as a fabric for the velcro or iron on name patches.
Embroidered Name Patches on Apparel and Accessories
Name patches can be attached to your clothing, bags and other accessories. And using them can jazz up the look of a plain old shirt, pair of jeans, jacket or backpack. It's also a way for you to express ownership of your items.
You can be bold, quirky, simple or elegant in your choice of name patch style. You can have it tailored to fit a wide range of your clothing options or customize it according to a particular theme or design. If you have quite the space to fill, such as the blank back of a jacket, you can also opt for custom letter patches.
Further, you can personalize other items at home, work or leisure, such as your kitchen apron, bath towels, blankets and even fishing shirts.
Slogan Patches
Technically, these are not people or business names. But statement or slogan patches are another example of custom patches' unique application. They can range from a one-liner to a full-length quote. Plus, they're loved by kids and adults alike.
This patch design is also typically less formal compared to its corporate and military counterparts. So you can be experimental in terms of size, color, pattern and text. Your statement can be clever, funny, cute or anything you want. Just remember to be sensitive with the messaging and make sure you are not breaching someone's copyright.
Here are some slogan/statement ideas:
Time is just a concept.

Stop reading my patches.

Be your own hero.

Work hard, dream big.

Beast mode on.
In addition, if you are not a member of any biker or motorcycle club, it's best to steer clear from the official slogans of any such group. If you are a member but want to make your own patch, ask for permission from your club where necessary.
Some Beautiful Embroidered Examples
Whether you prefer velcro or iron on name patches, choose embroidery as your custom patch style. This option allows you to capture the finer details of your design. Here are a few examples for your reference: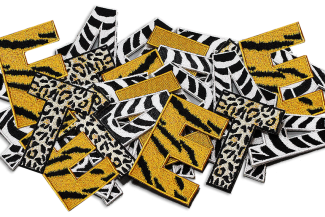 These letter patches are perfect for your clothes and accessories. You can follow a particular color or theme while mixing the patterns of each letter for a more striking look, such as in the image above. Note that the edges are also embroidered for a lasting, sophisticated effect.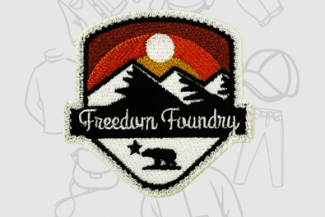 This example showcases what embroidered name patches can achieve. Examine the needlework that went into making the logo image and text stand out. The font, icon and background colors are all on point. Plus, the entire patch looks neat and orderly.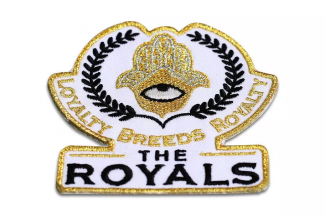 Take your design to the next level by using metallic thread on embroidered patches. This is a brilliant way to make the colors shine, giving velcro name patches a unique, vibrant feel. The metallic thread also enhances patches with elaborate artwork.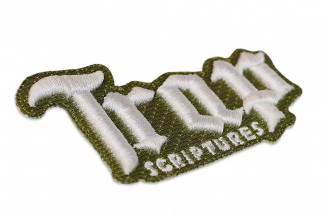 Are you attaching, sewing or ironing name patches on your hats? For sporting merchandise, we recommend working with three-dimensional patches. This patch type showcases lettering and logos on these accessories, making for a noticeable, eye-catching adornment.
Add A Personalized Touch With Quality Patches
Custom name patches are exactly what they sound like. They feature the name of a person or brand, making them truly unique. They also serve different purposes, as discussed above.
Whatever your intention is, you get a beautiful, long-lasting patch if you combine embroidery and velcro backing. Iron on patches also work if you need semi-permanent decor for your apparel and accessories.
Another way to make sure your name patch endures daily wear and tear is to find a manufacturer that produces superior-quality patches. At Quality Patches, we are dedicated to creating the best possible custom patches for our customers.
Reach out to us today to learn more about how we can help you build, customize, and refine your design. We assist you to finalize your order and find themost extraordinary set of custom name patchesright at your door.