Whether you are looking to create a branded uniform for your company, design your small business's merch or jazz up a few of your own shirts sitting in your closet, custom patches can help you do just that.
In this blog, we will look into the different types of custom patches for shirts, their materials and their benefits:
Custom Embroidered Patches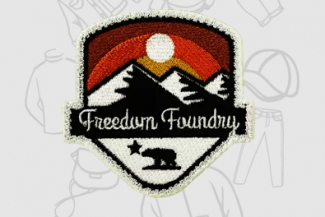 This type of custom patch is a powerful branding solution utilized by many businesses and groups, from apparel brands to schools and professional sports teams.
Embroidered patches are often made of sturdy natural fabrics, such as cotton, linen, wool and silk.
Quality Patches offers custom embroidery patches in different styles: metallic, glow-in-the-dark, three-dimensional (3D) puff and more.
Here are some of the many benefits you can enjoy with custom embroidery patches for shirts:
Established branding.

Wearing a custom embroidered patch can distinguish you from other brands.

Durability.

Because custom embroidered patches are made with sturdy threads and fabric, you can expect them to be long-lasting.

Boost morale.

Custom embroidered patches lead clients to have a good impression of your company.

Security.

It is not tricky for ill-meaning individuals to copy generic uniforms and trespass within your premises; custom patches can be an added extra layer of protection and eliminate unnecessary risks.

Versatility.

Embroidered patches can be used elsewhere other than shirts, like bags, jackets, caps or other accessories.

Cost-saving.

Having custom embroidered patches is significantly cheaper than designing your own uniform. You can define any unifrom as your own with custom patches.
Custom Chenille Patches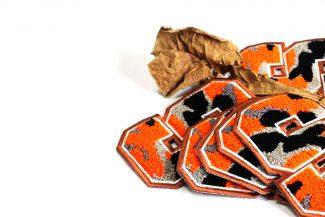 Also called letterman patches, chenille patches have a towel-like fuzz look and feel to them. Chenille is the French word for caterpillar, which it resembles.
Chenille patches are often made of polyester, non-woven, twill and cotton fabrics.
Quality Patches offers custom chenille patches in different styles: two-layer felt, camouflage, embroidery on chenille and more.
Benefits of using custom chenille patches for shirts:
Prominent design.

Think of varsity jackets with eye-catching mascot logos and letterings; that is what you will get with custom chenille patches.

Background color options.

Chenille patches are backed by sturdy stiffened felt; you can choose your background color and shape.
Custom Woven Patches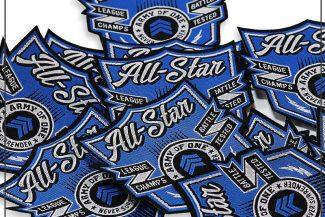 Unlike embroidery designs created on top of the fabric, woven patches are made by tightly interweaving the thread right into the material. This type of patch is the best choice, especially if you have designs that have small details.
Woven patches are often only made of thread. They are done by continuously, tightly stitching intricate designs.
Benefits of using custom woven patches for shirts:
Smoother surface.

Custom woven patches have smoother and even surfaces compared to embroidered patches.

Less bulky.

Because the threads are tightly stitched, custom woven patches are less bulky and are suitable for thin fabrics.

Finer details.

Your design details are preserved as much as possible with custom woven patches.

Practical.

Custom woven patches are much cheaper and faster to produce because they use fewer materials.
Custom Sublimated Patches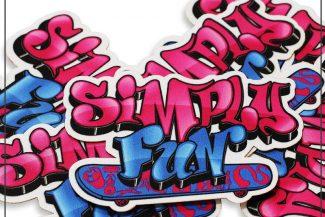 Also known as printed patches, sublimated patches are created by dye sublimation or the process of printing or transferring your design onto the fabric.
Just like woven patches, printed patches can showcase your designs' most complex and miniature details.
Benefits of using custom sublimated patches for shirts:
Reflect designs:

Custom printed patches can produce an exact copy of your family photo or your favorite landscape.

Exact, vivid colors:

With custom printed patches, you do not have to worry about color restrictions because the colors are preserved, plus you can add color effects.
Custom Sequin Patches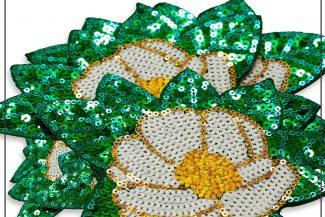 Sequin patches are mostly seen in dresses and gowns, but you can undoubtedly dazzle up your old, plain shirt with them, too. Sequin patches are made with colored sequins and threads. Luxury fashion brands such as Gucci have used removable sequin patches on their sneakers, giving any look an added edge.
Benefits of using sequin patches:
Shimmering designs

. The sparkle is the unique selling point of custom sequin patches; it flashes and reflects when lights hit your patches.
Other custom patches for shirts:
Get Custom Patches for Shirts From Quality Patches
There are many manufacturers of custom patches for shirts out there, but at Quality Patches, we take the time to understand your unique design and idea to turn it into a reality. Our focus remains on high quality, detailed customization and exceptional customer service.
Quality Patches is an award-winning digitizing and vector art company in the U.S. specializing in custom patches.
We have a team of in-house designers and patch specialists, so whether you have a rough sketch or a photograph on hand — we can work it out for you!
On top of that, you can expect the following from us:
Discounts (up to 20 percent)

Free photograph sample

Free worldwide shipping

Fast turnaround

Money-back guarantee

No Minimum Order Quantity (MOQ)
We'd be glad to talk with you if you have questions, so please reach out to our teamhere.