Custom biker patches can bring intrigue to any jacket or vest. But before you have one or two made for your gear, you should pay attention to the basics of wearing them. Plus, there are multiple meanings that go with motorcycle patches, so you have to be more mindful of your design.
Here are some things you should know about custom patches in order to create the perfect motorcycle leather jacket.

The Basics of Motorcycle Vest Patches
Custom patches for clothes worn by bikers come with the club membership and territory. Yes, you read it right. The patch serves as the insignia of a motorcycle or biker club, representing exclusivity. You can find either a large patch or a set of patches at the center of the back of a vest or jacket owned by club members.

Motorcycle Patches vs Riding Patches
Before you create a patch, make sure to know the difference between a motorcycle club (MC) and a riding (or rider's) club. Then use this awareness to guide you in choosing the best custom biker patch design.
Joining an MC is about broadening and deepening one's interest in all things involving motorcycles. Membership in an MC is earned, which can be strenuous, so you're required to ask permission before enhancing your gear with the group's patch or colors.
Meanwhile, a riding club is targeted to those who love to ride motorcycles. It is less difficult to get into and not quite strict about members generating their personalized patches.
Now that you know the difference between the two, and that there's a difference between them in the first place, you are expected to adhere to the rules and etiquette of the club you belong to.

What the Patches and Colors Mean
So whether you're an MC or riding club member, or neither, you can proceed with your patch customization by taking the following factors into consideration:
Now that you know the difference between the two, and that there's a difference between them in the first place, you are expected to adhere to the rules and etiquette of the club you belong to.

1- and 2-Piece Patches
These common types of motorcycle or biker patches carry certain meanings depending on the group you ask. Familiarize yourself with the things they represent. Here are a few details to get you started:
1-piece patch – Represents a family-oriented or social motorcycle club or a riding club; again, you will need to seek the approval of your MC if you're using its patch as it is usually "earned" by members.
2-piece patch – Similar to the above, check with your local MC if you're aiming to create a patch that is significantly similar to theirs.
This type of patch typically belongs to traditional or outlaw motorcycle club members. It is named as such because it has three parts, each of which pertains to a specific aspect of the club:
Top rocker – Contains the club name.
The center of the patch – Bears the club's official patch.
Bottom rocker – Identifies the club territory; also carries biker quotes, which serve as the club's saying or motto.
Again, it's better to check with your local MC or biker club before pursuing a design to ensure you're not encroaching on their logo.
As mentioned earlier, rockers refer to the top and bottom parts of curved patches. Since the bottom rocker bears the club territory, rockers are ideally worn by the dominant motorcycle club in your area. Independents or riding clubs cannot simply claim a territory. This means you need the group's permission to put a territory on your patch. It's even mandatory to seek approval if you're planning to use the state name on motorcycle vest patches.
There's more to explore in the world of biker patches. But here are the rest of the options you should know about:
1% patch – The American Motorcycle Association popularized the saying about 99% of bikers being law-abiding; and so, 1% patches are proudly worn by outlaw bikers.
Ace of spades – Stands for fighting for one's rights to the death.
Flag patch – This type of flag is restricted to uniforms worn by members of the military, police, firemen and members of patriotic organizations.
9 patch – The wearer of the patch has Indian blood; also, the 9th letter of the alphabet is I.
13 patch – This may have a negative connotation as it refers to the 13th letter of the alphabet, M, which also stands for marijuana; bikers who wear this patch are believed to use or deal with drugs such as this.
5 Top Design Ideas for Your Custom Motorcycle Patches
Don't let the rules dim your desire to own motorcycle vest patches. For one, you can make designing your custom patches fun. And for another, you can collect up to several design ideas to ensure one of them gets approved.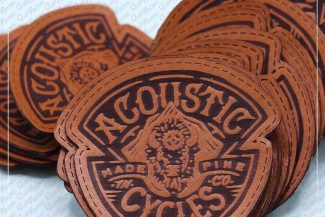 Whether you're creating one for your motorcycle/riding club or as an independent, here are a few cool designs to get you started:
Biker quotes – As explained in the patch type section, mottos and sayings find their way on a motorcycle leather jacket or vest as they feature in patches. "Ride Longer Live Longer" is one of the more popular quotes to grace embroidered patches.
Brandable patches – There are many different ways to explore with this one. Think about the classic Harley-Davidson patches, which have evolved into various cool versions. Still, any custom Harley-Davidson patch carries with it a deep sense of biker history.
Eight-ball – This design is another classic and, since it is related to gambling, it underscores a biker's tendency to see life as a game.
FTW – If you think this is an acronym for swearing, you are correct. But it can also mean "Forever Two Wheels." No matter the meaning, this symbol on custom patches represents a biker's absolute rebellion.
Malta cross – This symbol is commonly associated with the Knights of Malta. These days, it is used by Malta, the country. For bikers, it signifies bravery, courage and protection.
Let the identity of your motorcycle/riding club or independent biker group shine with a custom patch. At Quality Patches, we help turn your idea, sketch or graphic into reality. Contact us today to learn more about creating a custom patch for your motorcycle jacket.