Commemorate this year's celebration of "The Fourth" with custom 4th of July patches, which you can proudly wear to the parade, hand out to family and friends at barbecues or sell on your online store.
Red, white and blue patches can come in various shapes, styles, colors and sizes. They can also be tailored according to your choice of materials and design. Embroidered, chenille, leather or polyvinyl chloride (PVC) patriotic patches, anyone?
Below, we explore how
personalized patches
can make this holiday more memorable. We'll also list a few design ideas for those looking for inspiration.
Multi-Purpose Custom Patches
You can create personalized Independence Day patches for different purposes, but the most common uses for these patches include the following:
Wear during the 4th of July parade. Whether you're watching or participating in the parade, you can add a patch to your hat, tote bag and more. 

Express yourself – your passion, hope, personality and humor. It's also a way to showcase your affiliation or membership in a group. For example, a boy or girl scout can place a fun patch on their sash, tunic or vest. Families of the United States (US) Armed Forces members or veterans can wear

patriotic patches

in honor and recognition of their loved one's service.

Beautify your clothes, bags, accessories and many other items. These patches allow us to be grateful and feel great about the freedoms we continue to enjoy. So why not attach custom

US flag patches

and the like to your shirt, jacket, backpack, etc.?

Give as a gift to a family, friend, colleagues, etc. If you're planning to pass out patches during parties and reunions, this is your reminder to order as early as now. You can tailor the design to each recipient, such as unofficial military patches for Armed Forces members and veterans.

Sell in your shop. Approximately 29 percent of consumers intend to buy 4th of July products. Patches are one of the items you can offer in your store to cater to this customer segment.
4th of July Patch Design Ideas
Show your American pride with a design that fits the occasion yet is also perfectly fine to wear any day of the year. Here are a few ideas on how to achieve that:
Custom US Flag Patches
A symbol that will never go out of style, the US flag remains a crowd favorite. You can be one with the people by wearing this patch while ensuring the creation is unique. For instance, you can opt for a wavy flag or an oval-shaped one (instead of a rectangle) complete with all the parts.
Further, you can customize the colors and size of these patches. You can choose from the popular type options, such as embroidery, woven and PVC. Are you planning to attach the patches to various personal items? Mention that you want a velcro backing when you make an order. 
Stars and Stripes
This design takes US flag elements – the stars and stripes – and renders them in different ways. For example, some customers want the two elements placed on either side of a star, clover or any shape they prefer. Meanwhile, others use the US map as a base, apply the stars and stripes and then add their icon, such as a motorcycle.
There's no limit to what you can do with this design. It is also pretty flexible in terms of backing. You can go for iron-on, sewn-on or velcro depending on your requirements.
Fireworks
Liven up 4th of July patches with this imagery. You can incorporate fireworks into any existing design, such as the US flag or just the stars and stripes. Another option would be placing it in the background or as an accompanying image to the text of your letter patch (more on this design below). 
In any case, you can have it customized and handmade so you can still use it on your clothes, bags or accessories after Independence Day.
Letter Patches
Letter patches
are usually made for jackets, but who says you can't design one for your shirt on Independence Day? For starters, pick the first letter of your first name, your favorite letter or any popular acronym like US or NY. Then, make it look richer by adding stars and stripes, fireworks or a piece of relevant artwork.
On a related note, you can opt for a rectangle or round patch and then include text in your design.
Vintage
Vintage patches typically use a design technique called applique. Here, fabric patches are layered on a base fabric and sewn in place with the raw edges turned under or covered by decorative stitching. You can still score genuine authentic patches today. You can also give it a go yourself and craft a contemporary version.
If you want to up your game, try embroidery on applique for a fashionable patch that showcases the fine details. Learn more about the benefits of this hybrid design.
Butterfly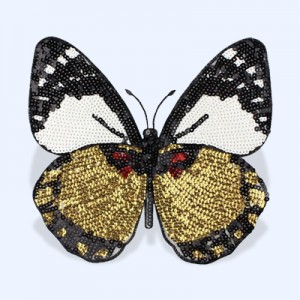 You may already be familiar with butterflies symbolizing hope and transformation. But did you know that they also represent bravery?  And bravery is something we celebrate during the fourth. So why not make it the shape, focal point or the whole design of your patch?
If you plan to give out awards to people close to you on this important day, you can also create a butterfly patch for the bravest person you know. It could be one or both of your parents, a sibling, a friend or a coworker. It could also be for someone in the community who you want to honor.
Takeaway
There are plenty of 4th of July patch ideas you can decide to implement, so feel free to explore your options.
If you need someone to translate your vision into high-quality 4th of July patches, we are here to help. Our process is simple and convenient. We take the time to understand the details of your request, provide you with a design mockup, allow revisions and then move on to production once you're happy with the final look.
Reach out to us to get started with your Independence Day project ASAP.